Operation Riverside: We Came, We Saw, We Failed
Published Thursday, April 13, 2006 by JamesBB2 |
E-mail this post

---
What an amazing day, despite the result I was proud to be there! I really enjoyed the whole experience. For me the morning started at 11am at Pease Pottage services in Crawley where we picked up the Coach to Boro. It was wicked to see posters in the windows with 'Operation Riverside - Brighton' mounted! A couple of stops at services in Birchanger Green and Ferrybridge and it was cool to see other coaches stopping! We truely were invading the North of England!
Eventually we got to a place outside Tesside and all coaches got a police escort to the Riverside Stadium. It was wicked to see the convoy of coaches with coppers by the side! We got to the stadium and I have never heard so much noise! I got the drum in and had to go to the disabled area to drum it, wicked!! The crowd was amazing during the match and never stopped singing. It was great that the Charlton Board of Directors came on the pitch and applauded us before the match. As the players came out of the tunnel, loads of paper confetti was thrown throughout the charlton fans, it was amazing!
Despite the 4-2 scoreline, we all kept our heads up and it was great. When the goals from Boro went in (especially 3 and 4), the emotion felt throughout my body was immense. I really wanted to cry but I didn't. I cheered the players off the pitch and I drummed when we were all leaving the stadium to try and lift the fans spirits and tunes of Red Army rung around the concourses. Time FM asked for an interview which I really didn't want to do, but they were nice and it would be nice that I have been chosen for an interview.
On the coach on the way back loads of texts came in saying myself and Chris had been seen on the TV with the drum! It was a long journey back but a day that I will never forget! It made me proud that despite my drumming wasn't as good as around the Valley, I was still congratulated by a number of fans after. Cheers to you all. Well done fellow fans, despite the result you were all part of something that will be remembered for years!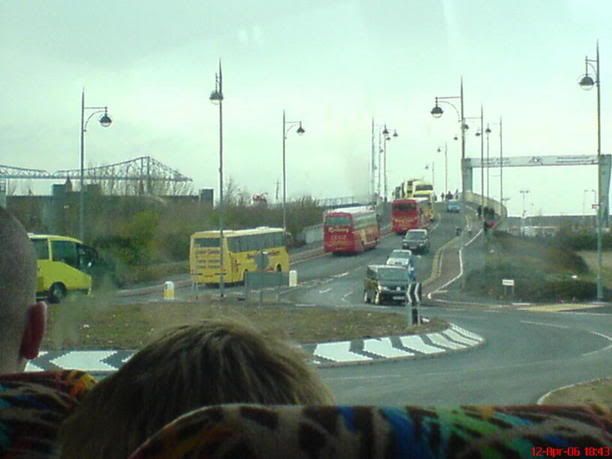 Operation Riverside Convoy outside the stadium