Match Report: Charlton 2- 0 Feyenoord
Published Thursday, August 04, 2005 by JamesBB2 |
E-mail this post

---
So CAFC Bois is back with our match reports and the first one - Friendly at Home - is a great one! Myself and Matteo went to The Valley tonight to watch the friendly vs Dutch giants Feyenoord! And a great feeling it was! The reminiscence of "shalalalalalala we sent the palace down" came back when Amarillo was played before the match when us lot in the covered end joined in! So Curbs fielded new signings Bent, Ambrose, Powell and Smertin for the match. No Holland, Bartlett or The Elk to be seen! A good attendance for a midweek friendly saw a new side start the first half very strongly and dominate most of the half with no score at half time. We deserved to be infront. The players fitness levels were up more than last season!
The second half started and a few minutes in, Bent hit a shot which rattled the underside of the crossbar, only to hit the keeper (who was on the ground) in the back and then trickle in! A great sound to hear the Valley Faithful cheering again! 1-0!
Mintues later, after a good run from Rommedahl, a cross in and a great header making Bent score his second and put us up 2-0. Great! This is more like it!
The second half fizzled out and a great result for us Addicks!
Of course, the match had to finish with new (old) signing Chris Powell's trademark run and jump out of the tunnel!
Promising signs coming from all three new signings as well as Murphy and Andersen!
Until AEK Athens on Saturday, Chow!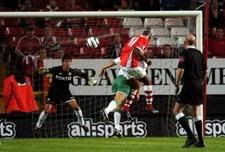 Bent Scores his second of the game